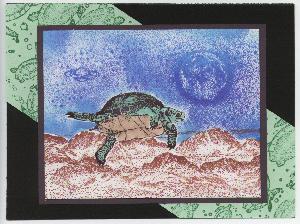 Stamp Credits
The turtle is by Yes, Pigs Can Fly. The moon is by Stampscapes, and the mountains and the background turtles are roller stamps by Clearsnap.
Instructions
First I stamped the turtle.
Then I masked her, and used the Rollagraph mountains wheel for the mountains that she is "flying" over: two layers of mountains in brown. Then I masked the mountains, and stamped the moon with a rainbow pad, and some stars and the planet as well.
I finished by coloring the sky using my tonal applicator, a Stampscapes stamp that gives a stippled background.
I mounted it on plum colored paper, and did the green stripe in the background with the Rollagraph turtles.