We adopted Lody when she was five in October 2001. Lody, who was shown to her AKC championship, went back to her breeder when her owner had to enter an assisted living facility, and could no longer care for her. We wanted a companion for our Rottweiler cross Dudley and didn't really want to do the puppy thing. We heard about Lody through a friend who is friends with the breeder. Lody was not doing well among the large number of dogs at the breeder's, having been used to being in a much smaller household.
Despite being a show dog (or perhaps because of it) Lody does not seem to like to have her picture taken, so these shots,
although poor, are the best of many attempts.
My greatest concern was that Lody, who was five when she came to live with us, would not want to play with Dudley. It took her about a month to train Dudley to play by female Collie rules: Dudley lays on the floor while Lody chews on his head.
These photos were taken in August 2002.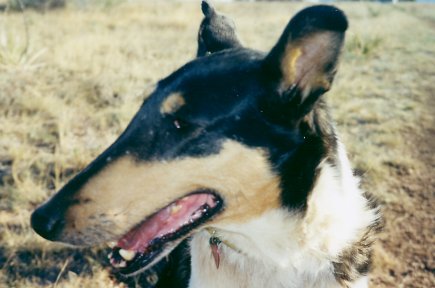 Lody is a tri-color Smooth Collie. This is the same breed as the Rough Collie, better known as Lassie. And yes, their eyes really are that small: for some reason the breeders have bred for tiny eyes.
p>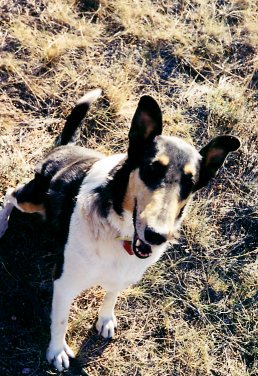 Lody's coat is typical for a Smooth Collie.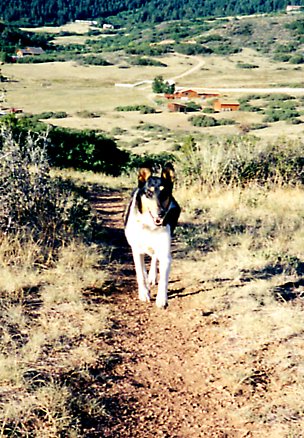 Here Lody is trotting up the hill. You can see our place in the background to the right.